Source: Tuoi Tre Online Newspaper: https://tuoitre.vn/nhan-hoc-bong-vingroup-khong-nhat-thiet-lam-cho-vingroup-20190321212922575.htm
Vingroup has just announced the 1,100 Science and Technology Scholarship Program for Overseas Study for Master's And Doctoral Degrees. To answer the questions related to this "tremendous" scholarship program, Tuoi Tre News interviewed Madam Le Mai Lan – Vingroup Vice Chairwoman and Managing Director of VinUniversity Project. She said:
"This is a full scholarship, 100% of the costs including tuition, living expenses, insurance, travel, etc. will be funded by Vingroup. The value of each scholarship will be different depending on the tuition policy of each university, the nature of each field of study, and the cost of living in each country. Therefore, a master's scholarship award can be up to 3.6 billion VND and a doctoral scholarship one can be up to 9.2 billion VND, depending on each specific case."
Depart then return to devote
* Will the scholarship recipients have to commit to returning to work at Vingroup or in Vietnam after graduation? If yes, how long is the time?
– The scholarship recipients will need to commit to returning to Vietnam after completing their degree study programs. They may choose to work at one of Vietnamese public universities/research institutes in Vietnam or at VinUniversity or Research Institutes/Companies of the Vingroup's Ecosystem for a duration of time equal to the time duration they have studied under the scholarship support (usually 2 years for a master's degree and 5 years for a doctoral degree).
If the students choose to work at VinUniversity or Research Institutes/Companies of the Vingroup's Ecosystem, we will do our best to provide them with an attractive talent remuneration scheme and ensure that they will have an excellent working and research condition and a deserving income level to focus on maximizing their capacities.
In fact, Vingroup has been attracting more and more high-quality human resources to work at the Group's technology, industrial companies and research institutes.
If a student stays abroad or works for a for-profit organization that is not a Vietnamese public institution/research institute or Vingroup, then the student will need to return the scholarship grants to the Program so that we can sponsor other talents.
* All the 50 targeted universities in the list that Vingroup has announced are very prestigious. The reality is that applicants who are accepted to study master's or doctoral degree programs at these universities all possess outstanding capabilities. This means that they can manage to get scholarships from the host universities and become the targets for international headhunters. Does Vingroup take this into consideration and what Vingroup can do to attract the talents?
– According to our findings, the number of Vietnamese people who are admitted to graduate degree programs in science and technology at these universities is very small, not over 300 students out of 130,000 Vietnamese students studying overseas every year.
Some schools only receive 1-2 Vietnamese students per year or even do not accept anyone from Vietnam for some years. The scholarship awards will increase and maximize the number of Vietnamese candidates who have the opportunity to study at these leading universities.
We believe that Vietnamese intellectuals all have the desire to bring their talents and dedication to contribute to the development of science and technology in Vietnam. In fact, more Vietnamese scientists and experts or those who have Vietnamese origins and are passionate about their homeland are returning to Vietnam.
For example, Professor Vu Ha Van (Yale University) has spent a lot of time in Vietnam and is conducting several major research projects at the Big Data Research Institute of Vingroup and the Vingroup Innovation Foundation.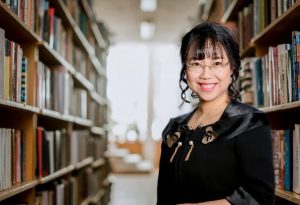 Photo: Madam Le Mai Lan, Vingroup Vice Chairwoman and Managing Director of VinUniversity Project
Open, competitive, and transparent
* Can you please elaborate about the selection process? What are the most important selection criteria?
– There has to be a clear distinction between being selected for the scholarship and being accepted by leading universities. Being selected for the scholarship will significantly increase the chance of being admitted to top universities; still, applicants have to follow the application requirements of the top universities; therefore, ensuring the highest quality of the Vingroup Scholarship Program.
The scholarship selection process is open, competitive, transparent and free. We will organize two rounds of selection, including an application screening round and an interview round, all of which will be conducted at the highest technical standards. Several scientists from the VinUniversity Project will participate right from the application screening round. Vietnamese and international professors who have deep expertise in each field will conduct the technical interviews.
The most important selection criteria are talents and personal attributes. Only candidates who have new ideas, innovative problem-solving statements, bold solutions or outstanding personal achievements will be selected. At the same time, we highly appreciate candidates who can demonstrate their desire to bring their talents and dedication to contribute to development of the country.
* Applicants must find host universities themselves or Vingroup has a list of targeted universities and will allocate where the scholarship recipients will study?
– Both are accepted and we recommend applicants to actively do both. On the one hand, the applicants have to be active in applying and in contacting and persuading prominent professors to endorse their applications and admit them.
On the other hand, we have already had a list of targeted universities and will arrange the placement of the Program's excellent candidates through formal cooperation and agreements. The final decision on which university to send the students to study is made based on the technical factors and personal preference of the students.